Table of Contents
Project Description
In order to simulate the conditions of high altitude flight we must either buy or build our own thermal-vac chamber. Since commercial ones cost more than $10k, we will be designing, and building our own low cost thermal-vac chamber.
Design
Concept Overview
---
Step 1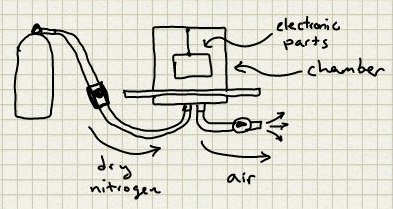 Place electronic parts into the chamber, minimize thermal conduction (possibly hang parts with fishing strings)

Close the chamber

Purge the chamber with dry nitrogen, allow air inside to exit

Allow the chamber to consist of mostly dry nitrogen
Step 2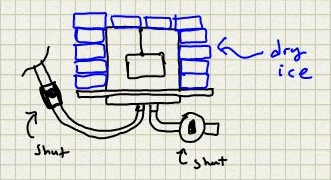 Close off all values to the chamber

Place dry ice around the chamber to cool the dry nitrogen and electronic parts through thermal convection

Measure temperature inside the chamber and the temperature of the electronic parts

Allow it to achieve -60C
Step 3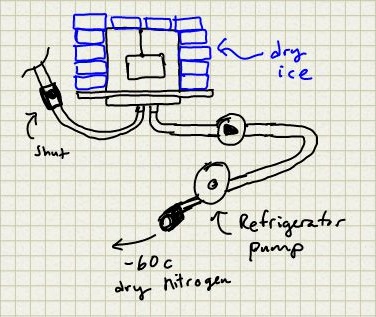 Open the value leading to the refrigerator pump

Pump the -60C dry nitrogen until the pressure is at 1010 Pa (pascals) or 0.01atm (1% of pressure at sea level) (estimate pressure at 100,000ft)

The chamber is now simulating the environment of 100,000 ft (-60C and 1010 Pa)
Mechanical Overview
---
The Thermal Vacuum Chamber concept consists of single 1/4" thick aluminum tube with a 7.5" ID and 8.0" OD. We then place a 1/4" aluminum plate on one end and 1/2" acrylic on the other end. We will also add a hole on the bottom aluminum plate to allow wires to pass. All joints are sealed with low temperature liquid gasket.
Tubes available here: https://www.speedymetals.com/pc-4661-8371-8-od-x-250-wall-tube-6061-t6-aluminum.aspx
Conceptual drawings of the environmental test chamber: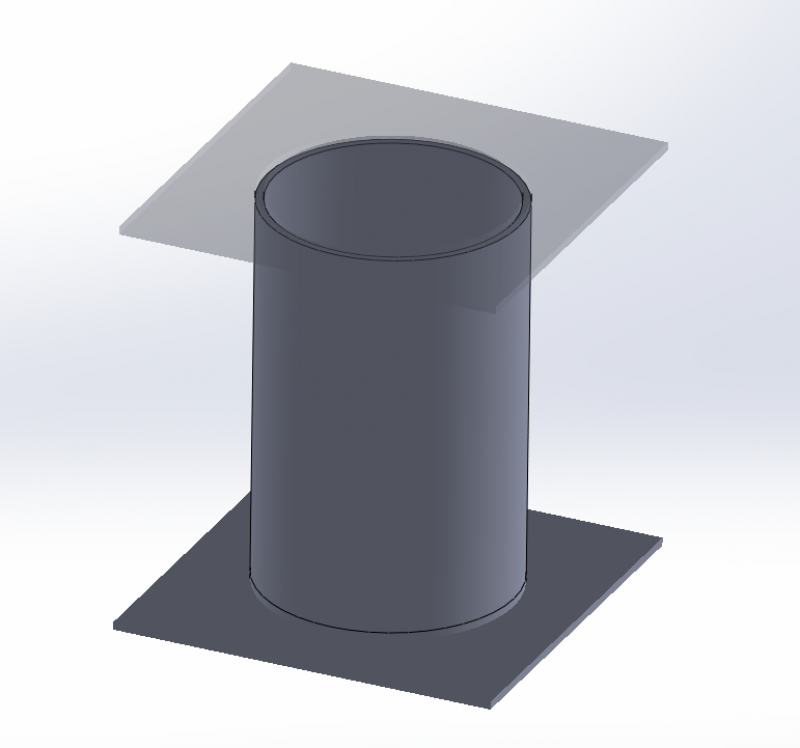 Mechanical Stress Analysis
---
The following is a stress analysis of one of the walls. It's fixed by the corners and a 14psi pressure load is applied to the wall (at room temperature). Results conclude that deflection is minimal, however more materials should be looked into.
Full analysis report: Cylinder: cylinder-simulationxpress_study-1.docx
Bottom Plate: bottom-simulationxpress_study-1.docx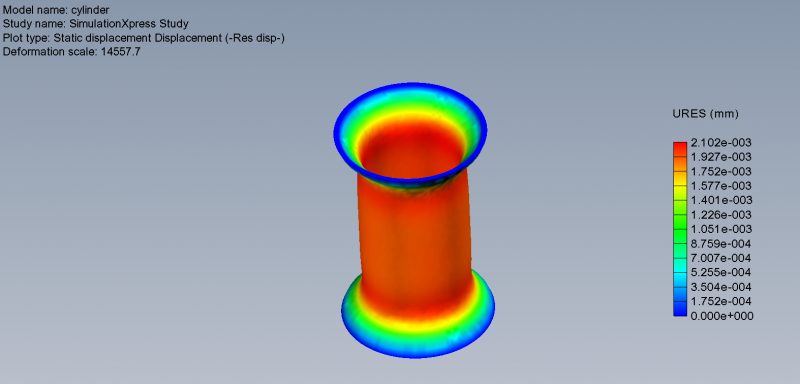 Electronics
Software